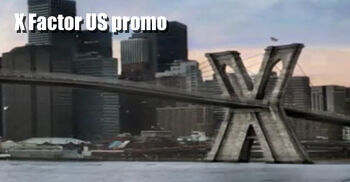 The X-Factor USA Edit
The X-Factor USA started in 2011 when Simon Cowell thought it would be a good idea to bring the show over to find America's talent. Already known in the UK it is a singing competition. Season 1's judges were Simon Cowell, Nicole Scherzinger, L.A. Reid, and Paula Abdul.
Season 1: Edit
Simon Cowell: Girls
Edit
Paula Abdul: Groups
Edit
Nicole Scherzinger: Over 30's
Edit
L.A. Reid: Boys
Edit
Judges and their Finalists
Edit
Simon's Girls: Melanie Amaro, Rachel Crow, Drew, Simone Battle, and Tiah Tolliver
Paula's Groups: Lakoda Rayne, The Stereo Hogzz, InTENsity, and The Brewer Boys
L.A. Reid's Boys: Chris Rene, Marcus Canty, Astro, and Phillip Lomax
Nicole's Over 30's: Josh Krajcik, LeRoy Bell, Stacy Francis, and Dexter Haygood
Bootcamp and Live Shows
Edit
Bootcamp really told the judges who is ready for the live shows. They did many things to prove their case. If the judges thought you were good enough, they sent you through to live shows. There, the four judges chose their 4 or 5 finalists. Once the finalists were chosen, they started live shows. There is 12 live shows and they fight for survival. Each week either 1 or 2 competitors left the show. Melanie Amaro (although not being put through at first) won the 1st season of the USA's X-Factor giving Simon the victory!
Aftermath:
Edit
With Melanie's victory she won a recording contract. As well as some of the other acts. However, the four judges would not stay together for season 2. Nicole and Paula wished to pursue other endeavors. Nicole ended up judging in the UK for season 9 and 10. She won season nine with the boys and James Arthur. The main reason she left the US is because of death threats she received after voting off Rachel Crow. Although it went to deadlock, Marcus Canty had the majority vote which sent Rachel home.

==

External Links
Edit
References
Edit