Steve Jones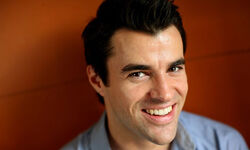 Birth Name
Stephen Ashton Jones

Steve Jones (born March 16, 1977) is a Welsh television presenter. He was the host of season 1 of X Factor USA. During his time on the show, he was frequently accused of being rude and appearing stiff while on camera despite his years of experience as a television host in the UK. On January 30, 2012, it was announced that Jones, along with judges Paula Abdul and Nicole Scherzinger, would not be returning to the show for its second season. Jones later joined the popular US entertainment news program Entertainment Tonight.
Ad blocker interference detected!
Wikia is a free-to-use site that makes money from advertising. We have a modified experience for viewers using ad blockers

Wikia is not accessible if you've made further modifications. Remove the custom ad blocker rule(s) and the page will load as expected.