Simon Cowell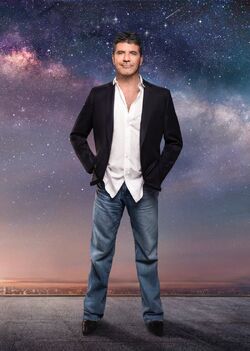 Birth Name
Simon Phillip Cowell
Occupation
Music executive, television personality, television producer, talent judge, entrepreneur
Born
7 October 1959
London, England

Simon Phillip Cowell (born October 7, 1959) is an English music executive, television personality, television producer, talent judge, and entrepreneur. He is best known on both the UK and the United States for his work as a talent judge on shows like Pop Idol, Britain's Got Talent, American Idol, The X Factor UK, and The X Factor USA. He will be replacing shock jock Howard Stern on the judging panel for season 11 of America's Got Talent in 2016.
As a judge, Cowell is known for his blunt and sometimes controversial criticisms, wisecracks, and insults about contestants and their abilities or lack there of.
As a record executive, Cowell has launched the careers of such artists as Kelly Clarkson, Carrie Underwood, Westlife, One Direction, and Fifth Harmony just to name a few.
On the UK series he has mentored winners Steve Brookstein, Leona Lewis and Ben Haenow to date while on the US series he mentored winners Melanie Amaro and duo Alex & Sierra.
Judges Rank
The X Factor UK
The X Factor USA
Ad blocker interference detected!
Wikia is a free-to-use site that makes money from advertising. We have a modified experience for viewers using ad blockers

Wikia is not accessible if you've made further modifications. Remove the custom ad blocker rule(s) and the page will load as expected.