Sharon Osbourne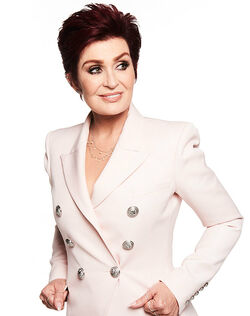 Birth Name
Sharon Rachel Arden
Occupation
Actress, author, businesswoman, music manager, promoter, talk show host, television personality, television talent competition judge
Born
9 October 1952
Brixton, London, UK
Sharon Rachel Osbourne (née Arden; born 9 October 1952) is an English music manager and promoter, television personality and presenter.
She came into public prominence after appearing in The Osbournes, a reality television show that followed her family's daily life. Osbourne later became a judge on the talent shows The X Factor and America's Got Talent. Her autobiography, Extreme, has sold in excess of two million copies.
After the success of The Osbournes, hosting her own chat shows and securing advertising contracts, Osbourne was ranked as the 60th richest woman in Britain on the 2007 Sunday Times Rich List. Sharon and husband, Ozzy Osbourne, are currently ranked as the 724th richest people in Britain with an estimated joint wealth of £110 million. Sharon Osbourne previously revived Ozzy's metal career and she stands as the founder of Ozzfest.
Osbourne is currently a co-host on the popular CBS show The Talk. She also returned to The X Factor UK for Series 9 as a guest advisor to judge Louis Walsh, who mentored the Groups category. She announced on May 22, 2013 on The Talk that she would be returning as a judge on The X Factor UK. For Series 10, she mentored the over 25s catagory, which featured the winner, Sam Bailey, giving her her first-ever win as a mentor.
Ad blocker interference detected!
Wikia is a free-to-use site that makes money from advertising. We have a modified experience for viewers using ad blockers

Wikia is not accessible if you've made further modifications. Remove the custom ad blocker rule(s) and the page will load as expected.