Rebecca Ferguson
Contestant Profile
Birth Date
July 21, 1986 (age 30)
Hometown
Liverpool, England, UK

---

Category
Girls
Mentor
Cheryl Cole
Placement
Runner-up (2/16)
Gallery
Rebecca Caroline Ferguson (born July 21, 1986) is an English R&B/soul singer-songwriter who came to prominence in 2010 when she finished as runner-up to Matt Cardle on Series 7 of The X Factor. Her mentor was Cheryl Cole.
Biography
A single mother of two young children, Rebecca attempted to form a music career by auditioning for P. Diddy's Starmaker' in New York as well as Britain's Got Talent but had no success.
The X Factor
After twice failing to audition, Rebecca Ferguson auditioned a third time in 2010 where judges were impressed by her soulful voice. She made it all the way to the live shows where she earned herself a devoted fanbase with her soulful, smoky vocals, which has drawn comparsions to R&B legend Aretha Franklin and the late Amy Winehouse.
She made it all the way to the final, where she finished as runner-up to Matt Cardle. Afterwards, Ferguson signed a joint record deal with Syco Music and Epic Records in the UK and later signed a deal with Columbia Records in the United States. Her debut album, Heaven, was released in the UK on December 5, 2011 and in the United States on May 29, 2012. It features the singles "Nothing's Real But Love" and "Glitter & Gold".
The album, which Ferguson co-wrote every song, has since gone platinum in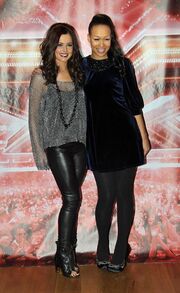 the UK and debuted at number 21 on the Billboard 200 in the United States.
To date she has released three studio albums with her fourth set for release in October 2016.
Discography
Albums:
Heaven (2011)
Freedom (2013)
Lady Sings the Blues (2015)
Superwoman (2016)
Personal Life
While still in her teens, she gave birth to a daughter named Lillie May and a son named Karl by her ex-boyfriend Karl Durates. The couple later split but have remained close friends since.
During her time on the show, she dated One Direction member Zayn Malik, which caused controversy due to their age difference. They split up after four months together.
In August 2014, she gave birth to her third child, a daughter named Arabella. The child's father broke off the relationship with Ferguson when she said she was pregnant but she holds no grudges against him. The father of her eldest children was present at the birth and offered to adopt her newborn daughter as his own.
Ad blocker interference detected!
Wikia is a free-to-use site that makes money from advertising. We have a modified experience for viewers using ad blockers

Wikia is not accessible if you've made further modifications. Remove the custom ad blocker rule(s) and the page will load as expected.