Nick Grimshaw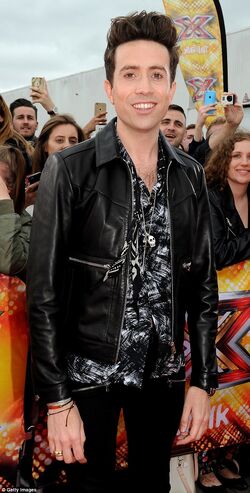 Birth Name
Nicholas Peter "Nick" Grimshaw
Occupation
BBC Radio 1 Presenter
Born
14 August 1984
Manchester

Nicholas Peter "Nick" Grimshaw (born 14 August 1984) is a British television and radio presenter. As well as hosting various shows for BBC Radio 1, he is notable for his work on television.
In September 2012, Grimshaw became the new host of The Radio 1 Breakfast Show, replacing Chris Moyles. In 2015, he joined Series 12 of X Factor UK as a judge.  
In February 2016, he confirmed that he wouldn't be returning for a second season.  
Ad blocker interference detected!
Wikia is a free-to-use site that makes money from advertising. We have a modified experience for viewers using ad blockers

Wikia is not accessible if you've made further modifications. Remove the custom ad blocker rule(s) and the page will load as expected.