Melanie Amaro
Contestant Profile
Birth Date
26 June 1992
'Age
25
Hometown
Tortola, British Virgin Islands
Occupation
Student

---

Category
Girls
Mentor
Simon Cowell
Placement
1/17 (Winner)
Gallery
Melanie Ann Amaro (born June 26, 1992) is an American-born British Virgin Islands-raised singer who won Season 1 of The X Factor USA on December 22, 2011. She was part of the Girls catagory, mentored by Simon Cowell. 
Reactions
She is best known for her great rendition of Beyonce's "Listen", which brought judge Nicole Scherzinger to tears. She later wowed people with her rendition of the Michael Jackson song "Earth Song". Due to the eliminations of fellow contestants Drew and Rachel Crow, Amaro became the only act left in her catagory, as well as the only female contestant remaining. She beat out both Josh Krajcik and Chris Rene for the title.
Melanie has been praised for her voice. L.A. Reid said listening to her sing was like "drinking warm honey." Paula Abdul said Melanie could "sing the phonebook". Nicole admitted that she "made her a believer". Simon announced Melanie for the live shows as "you know the expression 'save the best for last'? Here's Melanie Amaro!" Melanie has been most likely with the odds to win the show.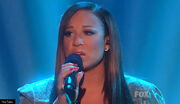 Personal Life
After her victory, Melanie admitted that she and Trace Kennedey of The Stereo Hogzz are dating.
After her victory, Melanie signed a deal with Epic Records, whose president and CEO is LA Reid, and even has a pizza named after her at a restaurant in her hometown of Sunrise, Florida. Her first single, an uptempo version of the Aretha Franklin classic "Respect", was released to digital retailers like iTunes on February 2, 2012 even though it's not officially her first single. The song was featured in Amaro's Super Bowl Pepsi commercial, which also featured music legend Sir Elton John. The song, despite not officially being her first single, did peak at number 3 on the BIllboard Dance/Club chart. Amaro was also nominated for a 2012 Teen Choice Award for Choice Female Reality Star.
"Don't Fail Me Now"
One of Amaro's songs, "Don't Fail Me Now", was used in a promo for season 2 of X Factor USA in August 2012. "Don't Fail Me Now" was released as a single on August 1, 2012, peaking at number 25 on the Billboard Hot Dance Club Charts. The song's music video premiered on Amaro's Vevo channel on October 19, 2012.
Fuel My Fire (2014-present)
Despite multiple rumors on a release date, Amaro's debut album, Truly, was scrapped, causing fans of hers to worry that she had been dropped by Epic Records. However, she is scheduled to release an EP called Fuel My Fire in August 2014. The title track is scheduled to be released as a single on her 22nd birthday, June 26, 2014.
X Factor Performances
Audition (Free Choice) - Listen by Beyonce
Bootcamp 1 - Run To You by Whitney Houston
Bootcamp 2 - I Still Haven't Found What I'm Looking For by U2
Judge's Houses (Solo) - Will You Be There by Michael Jackson
Week 1 (Free Choice) - I Have Nothing by Whitney Houston
Week 2 (Free Choice) - Desperado by Eagles
Week 3 (Songs from Movies) - Man in the Mirror by Michael Jackson
Week 4 (Rock) - Everybody Hurts by R.E.M.
Week 5 (Giving Thanks) - The World's Greatest by R. Kelly
Week 6 (Michael Jackson) - Earth Song by Michael Jackson
Week 7 (Dance Music Hits) - Someone Like You by Adele
Week 7 (Save Me Songs) - When You Believe by Mariah Carey & Whitney Houston
Semi-Final (Pepsi Challenge Songs) - Hero by Mariah Carey
Semi-Final (Get Me to the Final Songs) - Feeling Good by Cy Grant
Final (Celebrity Duets) - I Believe I Can Fly by R. Kelly
Final (5 Million Dollar Song) - Listen Beyonce
Finale (Christmas Songs) - All I Want For Christmas is You by Mariah Carey
Discography
EPs:
Singles:
"Respect" (2012) (non-album single)
"Don't Fail Me Now" (2012)
"Fuel My Fire" (2014)
Links
http://www.melanieamaroofficial.com/
https://twitter.com/#!/ItsMelanieAmaro