Lakoda Rayne
Contestant Profile
Gallery
Lakoda Rayne were an American all-female pop/country group in the Groups category under judge Paula Abdul. The group's members all originally auditioned for the show as solo artists but were given another chance as a group at bootcamp after all four members were each eliminated.
The group consisted of Cari Fletcher, Dani Knights, Paige Ogle, and Hayley Orrantia.
Despite them being the last group standing, they were eliminated on November 23, 2011, finishing in 9th place. The group performed at the finale.
The group disbanded in 2014.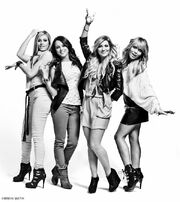 When the show ended, the ladies continued to delight their fans with videos on their YouTube channel as well as keeping fans updated on their music via Twitter. Hayley Orrantia even recorded a cover version of the One Direction song "What Makes You Beautiful" with former American Idol contestant Tim Halperin as well as a cover version of the Justin Bieber hit "Boyfriend" and the Katy Perry hit "Wide Awake".
Paige Ogle's departure
Edit
On May 16, 2012 Paige Ogle announced on Twitter that she was leaving the group to attend college.
The remaining members-Hayley, Dani and Cari- posted their version of the Carly Rae Jepsen hit "Call Me Maybe" on the group's YouTube channel. The three ladies did plan to continue on as Lakoda Rayne.
First single

Edit
The group's first single, "Emergency Brake", which Dani co-wrote with Jaden Michaels and Jordan Baum, was released on September 18, 2012. The music video, directed by Ryan Hutchins, premiered on the group's YouTube channel on September 16, 2012.
After the release of "Emergency Brake", the group went on what was thought to be an infinite hiatus with Cari Fletcher deciding to attend New York University and Hayley Orrantia getting cast in the ABC series The Goldbergs. In June 2014, Cari announced that the group had disbanded.
Discography
Edit
Singles: