Gary Barlow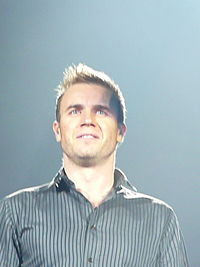 Occupation
Pianist, record producer, singer, songwriter, television personality, television talent competition judge
Born
20 January 1971
Frodsham, Cheshire, England, UK

Gary Barlow (born 20 January 1971) was the head judge of the The X Factor UK from 2011 to 2013, replacing Simon Cowell. He is also the frontman and lead vocalist of the popular all-male pop group Take That.
The X Factor
Series 8
During Series 8, his first series on the show, Barlow mentored the Boys catagory with one of his acts, Marcus Collins, finishing second to the all-female singing group Little Mix.
Series 9
For Series 9, Barlow mentored the over 28s catagory. Former X Factor UK judge Cheryl Cole, a longtime friend of Barlow's, was his advisor during the judges' home part of the show. His last remaining act, wildcard Christopher Maloney finished in third place.
During this series, Barlow feuded with popular contestant Rylan Clark until he was eliminated.
Series 10
For Series 10, Barlow mentored the Groups catagory. His last remaining group Rough Copy made it to the semi finals before losing out on a place in the final to Luke Friend. This was Gary's last series.
Judges' Rank