Fifth Harmony are an American all-female pop group who finished in 3rd place on Season 2 of The X Factor USA, mentored by Simon Cowell.
The group originally consisted of Ally Brooke, Dinah Jane Hansen, Normani Hamilton, Camila Cabello and Lauren Jauregui.  In December 2016, it was announced that Cabello had left the group.
The girl group have gone on since The X Factor to have a successful career, releasing two studio albums (with a third coming later in 2017) and several hit singles, including Work From Home and Worth It.
Background
The five ladies each tried out for the show as solo artists but didn't make it past bootcamp. Knowing how talented all five girls were, the judges decided to give them another chance, this time as a group. They impressed their mentor, Simon Cowell, and his guest advisor, Latin music superstar Marc Anthony, with their rendition of the Shontelle hit "Impossible" resulting in them making it to the live shows.
Originally called LYLAS ("love you like a sister"), the girls found themselves in a dispute with another girl group called The Lylas, which consists of singer Bruno Mars's four sisters, forcing them to change their name. For their first live show, the girls went with the name 1432("I love you too"). However, after choosing them as a part of the top 12, Simon Cowell told them that he hated the name & that the public would decide what they would be referred as. They revealed their new name, Fifth Harmony, on November 7, 2012.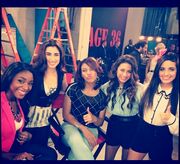 Despite them being a group put together by the show, the girls' willingness to work hard as a group and their personal friendship has endeared them to people, earning them a very devoted fan base.
The girls finished in 3rd place behind winner Tate Stevens and runner-up Carly Rose Sonenclar on December 20, 2012.
In an interview after the show, Simon Cowell hinted that he did intend to sign Fifth Harmony to his label, Syco Music, but there had been no official word until January 17, 2013 when it was announced that Fifth Harmony had been signed to Epic Records. The girls started work on their music in late February 2013. Their first single, "Miss Movin' On", premiered on Saturday Night Online on June 18, 2013. It was released on iTunes on July 16, 2013. Their promotional single, "Me and My Girls", premiered on Radio Disney on July 16, 2013 with the music video to premiere in the Disney Channel on August 24, 2013. Their debut EP, 
Better Together
, was released on October 22, 2013, debuting at number 6 on the Billboard 200.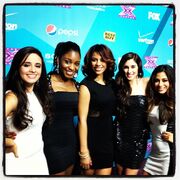 The girls' full-length debut album,
Reflection
, was released on February 3, 2015.
Tour
The girls opened for former The X Factor USA judge Demi Lovato on her Neon Lights Tour along with Cher Lloyd and Little Mix. The tour started on February 9, 2014 in Vancouver, Canada and ended on March 30, 2014. The girls are currently on the road for their 5th Time's A Charm tour, which kicked off on May 3, 2014 in Valdosta, Georgia. 
Reflection (2014-2015)
The girls released a new single, "BO$$", on July 7, 2014. They have been previewing the single at a couple of their concerts. Two sneak peeks of the song debuted on the group's Instagram account on June 30, 2014. The single peaked at number 6 on iTunes and the music video debuted at number 1 on the iTunes music video chart. They later released another single, "Sledgehammer", on October 28, 2014. The song quickly became a radio hit. The girls performed "BO$$" on X Factor UK on December 7, 2014. The album's third single, "Worth It" featuring rapper Kid Ink, proved to be the girls' breakthrough single, becoming a massive radio hit, earning a triple platinum certification in the USA and peaking at number 12 on the Billboard Hot 100. Throughout early 2015 they toured America on their  "Reflection Tour", and toured again during the summer before taking the tour to Europe, The Bahamas, and Mexico. The girls provided the single off the box office hit Hotel Transyvania 2, "I'm in Love With A Monster", in August 2015. In November 2015, member Camila Cabello released a duet with Canadian singer-songwriter Shawn Mendes called "I Know What You Did Last Summer, which peaked at 20 on the Billboard charts, and was certified Platinum.
7/27, Cabello's Departure and Upcoming Third Album (2016-present)
The girls began work on their second album in the fall of 2015, working with a variety of producers including Swedish hitmaker Max Martin. The album, 7/27, a reference to the date the girls became a group on The X Factor USA, was released on May 27, 2016 with the album's first single, "Work From Home", coming out on February 26, 2016 alongside its music video. The single has since become a hit, debuting at number 12 on the Billboard Hot 100 and peaking at number 4. This marks the first time in ten years a song by a girl group has reached the top five on the chart, following "Buttons" by The Pussycat Dolls, of which The X Factor UK judge Nicole Scherzinger was a member of. The music video for the song reached 1 billion views in October 2016, and was their second video to reach 1 billion views after "Worth It". This makes them the only girl group to have multiple music videos with over 1 billion views.
On December 18, 2016, it was announced that Camila Cabello had left the group but the remaining four members vowed to continue performing together.
Their third studio album will be released in late 2017. The lead single from the album, "Down", was released on June 2, 2017.
Ex-member Camila Cabello's debut studio album as a solo artist, The Hurting. The Healing. The Loving, is set to be released in September 2017. The lead single, "Crying In The Club" was released in May 2017.
Legacy
Fifth Harmony is the most successful act to come out of The X Factor USA, and is also one of the most popular girl groups around the world. With numerous chart hits and highly-viewed music videos, they have proven time and time again that they are here to stay. Three of their music videos ("Work From Home", "Worth It" and "All In My Head (Flex)") are in the top three most-viewed music videos by a girl group.
Solo Releases
Outside of the group, the members of Fifth Harmony have had numerous releases as solo artists, including:
Lauren Jauregui: "Back To Me" with Marian Hill (2016) and "Strangers" with Halsey (2017)
Normani Kordei: Covers of Tory Lanez's "Say It" (2016), Drake's "Fake Love / Sneakin'" (2016) and Solange's "Don't Touch My Hair" / "Cranes In The Sky" (2017), as well as several music videos by Fifth Harmony's choreographer, Sean Bankhead
Dinah Jane Hansen: "All 2 U" featuring Stunna June (2016)
Ally Brooke: "Look At Us Now" with Lost Kings and A$AP Ferg (2017)
Camila Cabello: "I Know What You Did Last Summer" with Shawn Mendes (2015), "Bad Things" with Machine Gun Kelly (2016) and, after leaving the group, "Love Incredible" with Cashmere Cat (2017), "Hey Ma" with Pitbull and J Balvin, "Know No Better" with Major Lazer, Travis Scott and Quavo (2017) and her songs as a solo artist from her upcoming debut solo album, The Hurting. The Healing. The Loving., including "Crying In The Club" and "I Have Questions".
Discography
Albums:
Reflection (2015)
7/27 (2016)
EPs:
 Better Together (2013)
 Juntos (2013)
 Better Together: Acoustic (2013)
 Juntos: Acoustic (2013)
 Better Together: The Remixes (2013)
 That's My Girl: The Remixes (2016)
Singles:
"Miss Movin' On" (2013)
"BO$$" (2014)
"Sledgehammer" (2014)
"Worth It" (2015)
"Work From Home (2016)
"All In My Head (Flex)" (2016)
"That's My Girl" (2016)
"Down" (2017)
Promotional Singles:
"Me And My Girls" (2013)
"I'm In Love With A Monster" (2015)
"The Life" (2016)
"Write On Me" (2016)
Ad blocker interference detected!
Wikia is a free-to-use site that makes money from advertising. We have a modified experience for viewers using ad blockers

Wikia is not accessible if you've made further modifications. Remove the custom ad blocker rule(s) and the page will load as expected.