Drew (born 'Drew Darlene Ryniewicz on January 7, 1997) is an American pop singer from Chino Valley, Arizona who finished in 6th place on season 1 of X Factor USA. She was a part of the Girls group under judge Simon Cowell. She is also best friends with Rachel Crow.
Drew auditioned for the show in Chicago and impressed the judges with a reworked version of the Justin Bieber hit "Baby". She continued to impress through both bootcamp and judges' homes, resulting in Simon Cowell choosing her to be a part of the live shows. Once there, Drew wowed the public with her soulful voice, considered mature for someone her age, as well as her fashion sense. She quickly became a fan favorite. Some even considered Drew as someone who could win.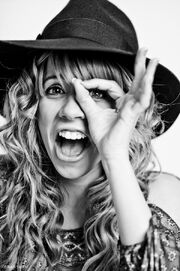 Despite a loyal fanbase and some really good performances, Drew was eliminated on December 1, 2011, finishing in sixth place with Simon only trying to save her.
Despite that, she got an early Christmas present, being able to perform with her idol, Justin Bieber, at the finale on December 22, 2011. Justin gave Drew a hug, kiss on the hand, and danced with her! Her many fans truly believe that Drew will get a record deal and become the star that she is meant to be.
Since the end of the show, Drew continues to entertain and delight her fans with videos of her performing various covers of different songs on her YouTube channel as well as regular updates via Twitter. She has performed in The 40th Annual Family Crisis Center event, had her first concert in Tim's Toyota Center in Prescott, AZ, did several meet and greets, and sang the National Anthem , first in the AZ Sundogs hockey game, and second in the D-Backs vs The Giants' game which had a sold out stadium holding 50,000 people.
Drew has attended dancing lessons and a writing camp in The OC Hit Factory. She is currently working on her first album, which is set to be released next year.
After the show was finished, it was revealed that in week 2 Drew had the most out of the public votes, recieving 22%, and when she was eliminated, she actually had more votes than sing-off rival Marcus Canty, who later finished in 4th place.
Drews performances on the x factor

| Week | Song Choice | Order | Result |
| --- | --- | --- | --- |
| Auditions | Baby | N/A | Advanced |
| Bootcamp 1 | Not Aired | N/A | Advanced |
| Bootcamp 2 | Creep | N/A | Advanced |
| Bootcamp 3  | Like A Star  | N/A | Advanced |
| Judges Homes | It Must Have Been Love | N/A | Through To Live Shows |
| Live Show 1 | Flashdance.....What A Feeling | 15 | Saved By Mentor |
| Live Show 2 | Just A Dream | 10 | Safe(1st) |
| Live Show 3 | Fix You | 3 | Safe(3rd) |
| Live Show 4 | With Or Without You | 9 | Safe(4th) |
| Live Show 5 | Skyscraper | 8 | Safe(4th) |
| Live Show 6 | Billie Jean | 3 | Bottom Two(5th) |
| Live Show 6 Sing Off | Listen To Your Heart | 1 | Eliminated(Majority) |
Links
http://www.youtube.com/user/OfficialDREWR
https://twitter.com/#!/drewryniewicz

Ad blocker interference detected!
Wikia is a free-to-use site that makes money from advertising. We have a modified experience for viewers using ad blockers

Wikia is not accessible if you've made further modifications. Remove the custom ad blocker rule(s) and the page will load as expected.