Dermot O'Leary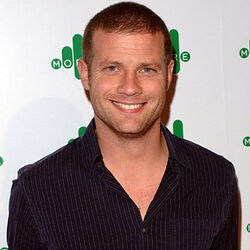 Birth Name
Sean Dermot Fintan O'Leary Jr.
Occupation
Television personality, radio personality
Born
24 May 1973
Colchester, Essex, England

Dermot O'Leary (born May 24, 1973) is an English television and radio presenter who is best known as the host of X Factor UK, replacing original host Kate Thorton who hosted the show from 2004 to 2006. 
He hosted the show from 2007 to 2014 in the 11th series before leaving to focus on his radio career.  For Series 12, he was replaced by Olly Murs and Caroline Flack but returned again for Series 13.
Ad blocker interference detected!
Wikia is a free-to-use site that makes money from advertising. We have a modified experience for viewers using ad blockers

Wikia is not accessible if you've made further modifications. Remove the custom ad blocker rule(s) and the page will load as expected.