Dannii Minogue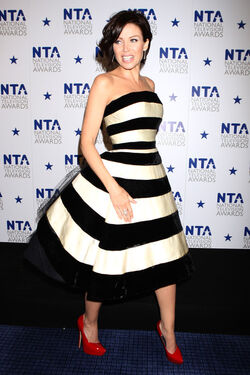 Birth Name
Dannielle Jane Minogue
Occupation
Actress, author, businesswoman, music manager, television personality, television talent competition judge
Born
20 October 1971
Melbourne, Australia
Danielle Jane "Dannii" Minogue (born October 20, 1971) is an Australian singer-songwriter and actress who was a judge on The X Factor from Series 4 to Series 7. She also served as a judge on The X Factor Australia from Season 5 to Season 7.
The X Factor UK
Minogue joined the show after the sacking of Louis Walsh, and Brian Friedman joined her. However, Brian soon after left the show and the spot was yet again taken by Louis. She had many arguments between Louis and Sharon. For this series she mentored the Boys category and won the series with soul/jazz singer Leon Jackson while opera singer Rhydian Roberts, who was in the same category, finished as runner-up.
She returned for the following series and was put in charge of the Over 25s category. Her last remaining finalist Ruth Lorenzo reached the quarter finals and finished in 5th place. Dannii has collaborated with her on a few songs since then.
The following year, she mentored the Girls category and her last remaining act Stacey Solomon reached the finals, finishing in 3rd place behind runner-up Olly Murs and winner Joe McElderry.
In 2010, she returned for her fourth year and was put in charge of the Boys category again for the first time since winning in 2007. Her last remaining act Matt Cardle was crowned the winner of that series. They maintain a close relationship to this day.
The X Factor Australia
In 2011, she announced that she would not be returning to the judging panel as she was participating as a judge on Australia's Got Talent. In 2013, she signed up as a judge on the fifth season of The X Factor Australia and was put in charge of the Over 24s category. The series was won by her last remaining act Dami Im and afterwards in was announced that Dannii would become her manager - the first time she has ever filled such a role.
The following year she returned for the sixth season and mentored the Groups category. Her last remaining act Brothers3 finished in 3rd place behind runner-up Dean Ray and winner Marlisa Punzalan.
In 2015, she returned for the seventh season and mentored the Under 25s Girls, becoming the first judge to lose all her acts when Mahalia Simpson was eliminated in Week 7. This was her last season as judge.
Personal Life
Minogue took time off from her career when she gave birth to son Ethan on July 5, 2010. However, Minogue's relationship with her son's father, model and former professional rugby player Kris Smith, ended in 2012 after having been together for 4 years.
In an April 2012 interview, Simon Cowell admitted to having had an affair with Minogue during her time on the show from 2007-2010.
Minogue was previously married to Nip/Tuck star Julian McMahon from 1994-1995.
Judges Rank
The X Factor UK