Chris Rene
Contestant Profile
Gallery
Christopher Dean Rene (born December 25, 1982) is an American singer-songwriter from Santa Cruz, California who finished in 3rd place on season 1 of X Factor USA, mentored by LA Reid. He first wowed the judges at his audition in Seattle with an original song that he wrote called "Young Homie" and continued to wow both the judges and the public ever since. Rene admitted he became addicted to drugs and alcohol very early on in his life.
Finale
Rene finished third behind winner Melanie Amaro and runner-up Josh Krajcik on X Factor USA on December 22, 2011.
Due to the popularity of "Young Homie" on YouTube, and Rene's performance of it on the finale, it was announced that the song will be Rene's first single. It was released on March 13, 2012 via Epic Records, which signed Rene to a record deal in January 2012. The song is receiving increased radio airplay in the United States and has even become a huge hit in New Zealand. His second single, "Trouble", was released on June 26, 2012.
Rene is currently on tour with the pop duo Karmin.
X Factor Performances
Audition (Free Choice) - Young Homie by Chris Rene
Bootcamp 1 - Sexual Healing by Marvin Gaye
Bootcamp 2 - What's Going On by Marvin Gaye
Bootcamp 3 - Every Breath You Take by The Police
Judge's Houses (Solo) - Everyday People by Sly and the Family Stone
Week 1 (Free Choice) - Love Don't Live Here Anymore by Rose Royce
Week 2 (Free Choice) - Superstar by Delaney & Bonnie
Week 3 (Songs from Movies) - Gangsta's Paradise by Coolio/L.V.; Dangerous Minds
Week 4 (Rock) - No Woman, No Cry/Everything's Gonna Be Alright by Bob Marley & The Wailers/Sweetbox
Week 5 (Giving Thanks) - Let It Be/Young Homie by The Beatles/Chris Rene
Week 6 (Michael Jackson) - I'll Be There by The Jackson 5
Week 7 (Dance Music Hits) - Live Your Life by T.I./Rihanna
Week 7 (Save Me Songs) - Where Do We Go from Here by Chris Rene
Semi-Final (Pepsi Challenge Songs) - Fly by Sugar Ray
Semi-Final (Get Me to the Final Songs) - No One by Alicia Keys
Final (Celebrity Duets) - Complicated by Avril Lavigne
Final (5 Million Dollar Song) - Young Homie by Chris Rene
Finale (Christmas Songs) - Have Yourself a Merry Little Christmas by Judy Garland
Links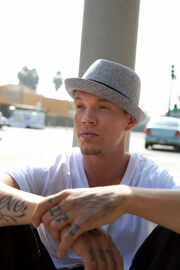 http://www.chrisreneofficial.com/
Discography
Singles:
"Young Homie" (2012)
"Trouble" (2012)